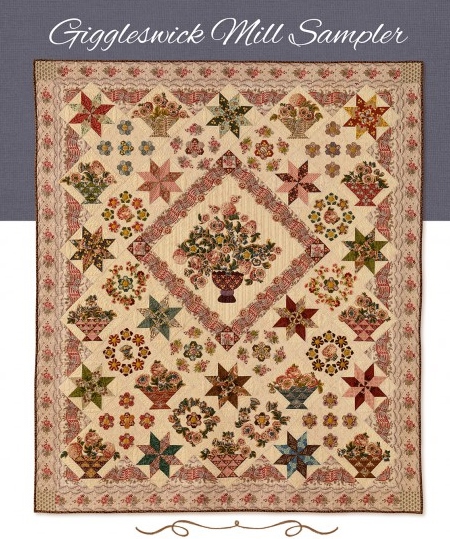 Shiralee Stitches is also a mobile shop, as well as being online!. Sandy often sets up her beautiful stall at Craft Fairs, and accepts invites to visit Patchwork & Quilting groups.
Being accomplished in all techniques relating to English Paper Piecing, Sandy can provide workshops teaching these skills. If your group is interested in booking Sandy for a workshop, we'd love to chat about it.
There is a weekly sewing gathering .… and everyone is welcome to attend….click on the 'Sew with Sandy' link to find out more….. 
Find out Sandy's whereabouts by checking out the schedule below…
Giggleswick Mill Sampler Quilt by Di Ford……BOM 
Just check out the beautiful quilt featured here…….this is an upcoming BOM!….beginning late May/early June.
The BOM will run over 10 months, beginning late May/early June, at a cost of $54/ month (+ postage) plus the book purchase of $75 with month one.
I will be sending step-by-step hints and tips, lots of photos,  plus full fussy cutting instructions each month, to support the pattern in the book, as well as kitting all the fabrics as in Di's original quilt,  give or take a few small pieces which she added from her stash and I will match these as best I can, and adding papers and templates too.
If you have ever wanted to create a quilt of this calibre before, but thought it was a bit out of your league, then this a perfect opportunity to be guided through the process step-by-step.
Techniques of English Paper Piecing, broderie perse (needlturn applique), hand piecing, applique, fussy cutting, and machine piecing will all be utilised to create this quilt.
I haven't got an exact quilt size measurement as yet, but close to 66″ x 77″.
I was fortunate enough to see Di's original Giggleswick Mill Sampler Quilt 'in the real' when I saw her last year, just before it was sent to France to the publishers, and it is a beauty.
If you would like to secure a place in this BOM, please pre-purchase the book online here, and leave me a comment saying you wish to join the upcoming BOM, in the order notes, or contact me by phone and I can take your details and process your book deposit for you.
I have a set number of places in this program, based on the fabric ordered, which is on a boat somewhere at sea as we speak…lol..